NOTICE:  Many in-person library programs have resumed.  We can't wait to see you back in the library!  Please look for updates on our Facebook page.
January 22nd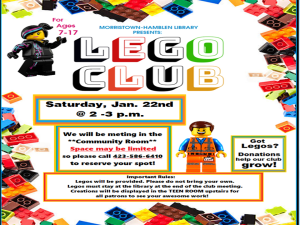 The January Lego Club meeting will be held on Saturday, the 22nd at 2 pm.  Please call (423)586-6410, or come by the front desk to reserve your spot.
January 27th
Our January craft is embroidery.  Kits are now available for pickup at the main circulation desk.  They contain everything you need to complete the embroidery project.  You have the option of completing the project at home or working on it here at the library.  A group us will gather with Shelly on Thursday, January 27th at 5pm in the Community Room, so come in and join us if you have questions about the project or want to stitch together!
Third Tuesdays
Library Writers' Club

The Morristown-Hamblen Library welcomes writers or anyone interested in learning more about the writing process to join the Library Writers' club on the third Tuesday of every month at 4:30 pm.  The club is open to high school students and adults.
Please call the library at (423) 586-6419 or visit the front desk to pre-register for one of the sessions.
Library Events Calendar  ~ View the goings-on at the library by clicking here for our events calendar.